there is life after a size 18...
Friday, June 25, 2010
Once upon a time I was unhappy and a size 28. I found it within myself to starve off 125 pounds (got to size 18), and while this was absolutely unhealthy, it was the key to finding my self confidence. That was 8 years ago and a lot has changed for me since then. Mostly, I had a baby and am happily married - can you guess it? Yep, the weight is ALL back. But you know what? I am just as confident as I was then. I now realize the weight was not the problem, how I looked at myself was.

While trying on clothes for a fun fashion post, my brain stopped me for a second to remind myself that my legs are not the best (always have hated my knees), I don't have a tan and my son gave me a fresh bruise. But you know what? I don't give a sh*t. Honestly. I don't think I'm the most wretched looking monster on the planet and while I do wear a size 28 pants, I refuse to hibernate and wear maxi dresses 24/7 (even though they are totally comfy!). I am human, I have flaws and I love my body. My hope is at least one girl who refuses to wear shorts and take full body pictures will see this and somehow be inspired to stop hating herself. I started this fashion blog to help give a voice to the big girls out there and shout from the rooftops, you can FEEL and LOOK gorgeous if you believe it....there is life after a size 18.

Join my "full body shot" project now at www.facebook.com/curvyconfident30something where you can upload your full body picture to give your vote of curvy confidence to other women who can relate to you.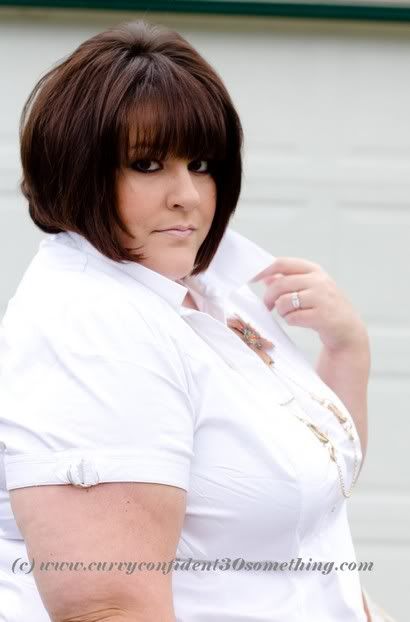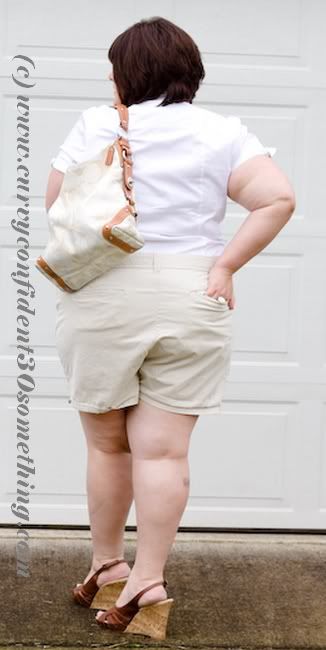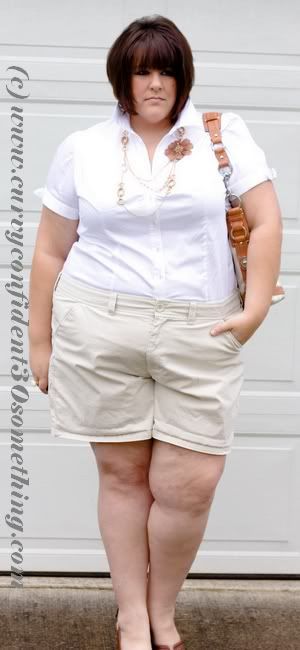 The most comfy wedges EVER! Just got them at Target.




Outfit Deets:
Top - Lane Bryant
Shorts - Old Navy Plus Size
Shoes - Target
Necklace - Target *Flower is a pin-on that I got at a garage sale*
Handbag - COACH 2 year anniversary pressy from the hubby :)

xoxo
jessica