Moraccan Birthday Bash
Saturday, May 01, 2010
My friend Nicole, a local plus model, celebrate her birthday Moraccan style at a favorite Portland spot, Marakesh. While every tried to dress in theme, yah, not me :).
I have NEVER been a person to dress with the theme, I'm seriously horrible, what's wrong with me? I figure, if it's not in my wardrobe, I'm not going to go purchase something I'll never wear again! I think I will make a promise to myself to try some new things........yahhhh NO. LOL....sticking with what I know works. I have my body/style down where I really don't try things on.

My style rules:
1. V neck is favorite. HATE scoop neck.
2. Muffin top is FORBIDDEN, period. So do what you gotta do, Spanx, higher waisted pants, larger size.
3. Tunics are a huge NO. Why? When you hold your weight lower around your waist, a tunic will only accentuate, so my tops go to my belly button or maybe an inch lower, that's it.
with my girl nicole
embracing the atmosphere ;)
Outfit Deets:
Necklace from a gift shop at 7feathers Casino.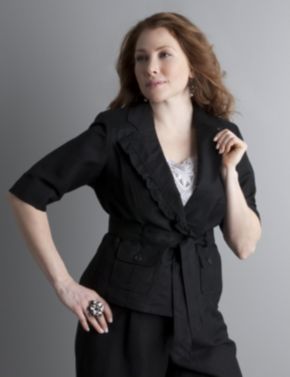 Ruffle linen blend jacket
- $59.50
Lane Bryant
Women's Plus Low-Rise Boot-Cut Jeans - $32.50
Old Navy Women's Plus
Sizes 16-30, Short to Long