What to wear to a power meeting?
Monday, May 03, 2010
So what do I want to be when I grow up? Honestly, a fierce creative business woman and a fashion-forward inspiring mom....hm, I think I'm there! *laughing*
For those of you who do not know what I do, I am the publisher/owner of
Skorch Magazine
, owner/creator of
Clique Mixer
, owner
Kane Kreative
, and s mommy & wifey. I work from home 100% of the time, and yes, I'm going completely stir crazy!! :) Thus the creation of this super awesome blog!!
*another chuckle*
My fashion week is like this:
Mon, Wed, Fri - WAHM (work at home mom) - jeans/tanks/casual
Tues & Thurs - All Business with meetings/interviews/site tours
Weekends - Casual or Dressy for an event
So, as you can see, this fashion entry is dedicated to
Power-Meeting Tuesday
when I met with the VP of Pollin Hotels, who owns Aloft Hotel in Portland, OR, to discuss an event partnership with
Clique Mixer.
Then, a trip to the grocery store! Totally posh :). Hope it inspired you.
Ps - Down 10 lb's! woo hoo!
Oh yah, I'm shopping....I think it's hilarious that the aisle I chose to take this picture was me in the candy and chips aisle!! LOL - I swear I was just walking through and it was the only aisle without any photo bombers!
Outfit Deets:
Blazer - LOVE the back detailing!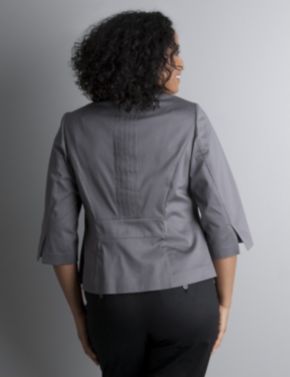 Top - Vintage Lane Bryant - I bought up EVERY color when they went on clearance. The essential satin sleeveless blouse.
Pants - As usual, Lane Bryant Houston Trousers.
Sunglasses - Curvy Girl Clothing
What do you think? I love to hear your comments.
xoox
jessica