a curvy revolution is coming...
Tuesday, August 03, 2010
I can feel it. I feel something big coming, something life changing and inspiring. It's hard to ignore. Do you feel it?
Join as thousands of women from around the world come together to unite and inspire at the
Curvy Revolution
in Las Vegas at Planet Hollywood Feb. 18-20, 2011. The convention is produced by Keke Dillard, founder and president of Full Figures. She is a lady that knows how to put on an EVENT! She's done events for celebs and fashion lines, so this one will be one not-to-miss and I am proud to be on
#teamCURVY
as a co-producer of Skorch The Runway. We will be casting for more models soon, so to stay tuned, be sure to friend the
Curvy Revolution Facebook Page.
Plus, the fabulous Gwen Devoe is coming off a HUGE push from the latest Full Figured Fashion Week in NY and has just announced another one this fall in LA! Yes, finally one near me! I'll be in LA for
Full Figured Fashion Week
(end) Oct. 28-30, 2010! Be sure to keep up with the latest at
www.fffweek.com
. And, I bettah see you there!
So, back to my post....here are some shots from a recent business meeting. I do love my pearls and never get to wear them enough, and these shoes are too cute and only 2" high! :) Yes, I'm a wussy. Hope you enjoy, would love to hear your thoughts. Hugs!
xoxo
jessica
Meet me at
www.facebook.com/fatshionchic
!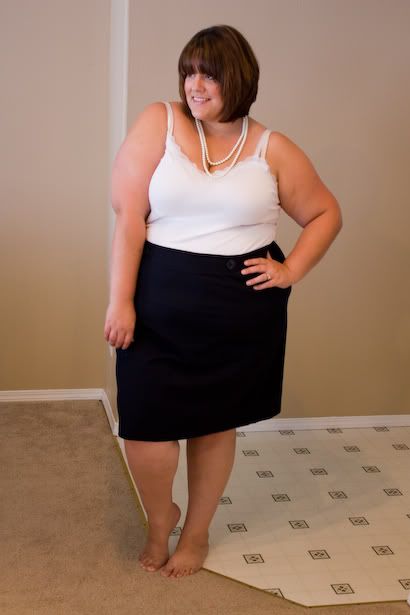 outfit deets:
blazer - torrid size 3
lace cami - gifted by Old Navy size 3x
skirt - lane bryant size 26
shoes - payless size 11
pearl necklace - thrifted
handbag - coach
.