the show your beautiful arms project
Thursday, May 26, 2011
.
.
.
.
It hurts my heart when I hear a woman hating on her body over what I feel are the smallest things, especially having big arms? I don't know who came up with the idea of "a perfect body" and who this person is supposed to be, but in my opinion you already there, already perfect as you. If you're trying to be someone else, who will be you?
Weight is not the problem and your arms are not the problem, it's how you perceive them to be a positive or negative. So, I challenge you to change our perception my gorgeous curvy readers, show your arms! Bare them in the cutest sleeveless top you can find for summer. Bust out the
Cacique 5-Way Strapless bra
(which defies gravity) and own it.
Should we call it the show your beautiful arms project? :) Show me!! Upload a picture to
www.facebook.com/fatshionchic
.
xoxo
jessica
Outfit Details:
Top - Lane Bryant | Jean Capris - Lane Bryant | Shoes - Payless | Sunglasses - Target
My favorite Lane Bryant sleeveless tops for summer....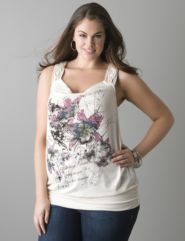 $44.95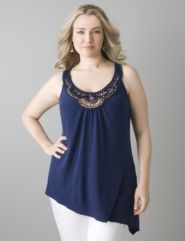 $44.95